The sun is shining, socially distanced garden parties are in full swing and lockdown is easing just in time for the heavenly heat. So, what's missing from this summer's adventure?
A sophisticated and sweet drink to quench your summer tastebuds.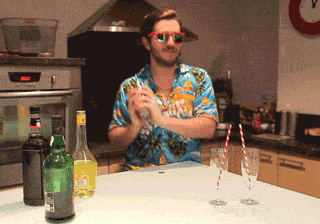 After what seemed like an eternity of lockdown and the whole of summer 2020 confined to the four walls of our garden. The summer of 2021 is everyone's opportunity to make a statement.
So, whether you're jetting away on an all-inclusive or keeping it closer to home in the parks and beaches of the great British outdoors, make this the crème de la crème of summers with our sizzling guide to the best seasonal drinks.
Initially introduced as a limited-edition drink for the Christmas season, this banana rum was such a hit that it is now part of the Dead Man's Fingers permanent collection (great move, guys!).
This delectable rum will add a tropical flair to your summer drinks. With extracts of banana and light vanilla complimented by delicate tones of warm pepper and drizzled honeycomb. Dead Man's Fingers Banana Rum is a sweet yet subtly spicy spirit that will get you in the summer mood.
You can try this future classic in a range of sizzling summer cocktails. Start out with a classic Banana Daiquiri.
The Banana Daquiri
Blend Dead Man's Fingers Banana Rum with the zestful taste of oranges and limes to create a crowd-pleasing cocktail.
What You Will Need…
Serves 4
• 3.5oz (100ml) Dead Man's Fingers Banana Rum
• 1.5oz (50ml) Orange or Citrus vodka, such as Effen Blood Orange
• Freshly squeezed juice from 2 limes
• 3 teaspoons sugar
• Crushed ice
• Blender
How to make A Banana Daiquiri…
1. Add Dead Man's Fingers Banana Rum, the orange vodka, sugar and lime juice to your blender and blitz until smooth.
2. Add ice cubes to your blender and blitz briefly until crushed.
3. Alternatively, add ice to your glasses and divide the banana daiquiri mixture between them.
4. Stir and enjoy
Keep it Cool with Ciroc Summer Citrus
If you're in the mood for something a little zestier, Ciroc's limited edition Summer Citrus Vodka is one of the most anticipated releases of 2021. Encapsulating the beauty of a sunrise on a fine summer's evening, this stunning bottle is an eye-catching addition to your collection.
Bursting with the bright blood orange juice and extracts of freshly squeezed lime zest, this spirit is the perfect summer treat. Like the rest of the Ciroc range, this fine spirit is distilled five times from grapes ripened in the South of France. This guarantees a silky finish on your palate.
Re-create your favourite holiday with a 'Vodka Summer Sunrise', a traditional twist on the tequila sunrise with a fruitier finish.
Serve It Sweet with Baileys Pina Colada
Traditionally associated with boozy coffee and Christmas gatherings, Baileys are ready to take over the summer with their new family member, Baileys Colada.
This limited-edition summer flavour will delight lovers of the classic Irish Cream and surely win over a few new fans. Bursting with tropical flavours of fresh coconut and tangy pineapple, say hello to your new summer staple.
Try Baileys Colada served over ice, the classic Baileys serve. Or if you want to get inventive, check out our own Baileys Colada recipes here.
Quench Your Thirst With Our New Summer Desperados Range!
The sun is out on a bright summer's day. You couldn't ask for more fitting weather to whip up a wonderful barbecue even if you tried. All that's missing is a good old drink in your hand and look no further as Desperados has you covered.
A dazzling collection of new summer flavours from the tequila beer, this refreshing range are great for outdoor group gatherings.
Stay refreshed with the unexpected taste of cactus and lime in the Lime Tequila lager or mix things up with a hint of mint in their Mojito Tequila Beer.
In the mood for something fruity? Keep it red with the Desperados Red Tequila Lager. Bustling with the Brazilian flavours of fruity guarana and sweetly fermented sugarcane cachaça, this rustic red drink has a sugary sharpness in taste.
All of these new summer Desperados flavours are available in a pack of 3 x 40cl bottles or in a larger 12 x 40 cl case, perfect to store in your ice bucket for those outdoor barbecues and meet-ups.
Serve your favourite flavour of Desperados chilled with a wedge of fresh lime.
Mouth-watering Malibu Watermelon
Capture the tropics of the Caribbean beaches with this new watermelon flavoured rum. Watermelon fruit is an essential in any summer drink. Succulently sweet in taste with the spicy tingle of rum, this spirit packs the punch making it the perfect pairing for any cocktail.
The Salty Toucan
Play with salted watermelon flavour with our tropical version of the Salty Bird. Fly high and serve up this rum in 'The Salty Toucan', a vibrant and stand-out cocktail that's buzzing with flavour.
You Will Need:
• 1.5oz (45ml) Malibu Watermelon Rum
• 1.5oz (45ml) Pineapple juice
• 0.5oz (15ml) Freshly squeezed lime juice
• 0.25oz (7.5ml) Simple Syrup
• A pinch of salt
• 4-6 cubes of ice
• Cocktail shaker
How to Make:
1. Mix all ingredients together in a covered glass (or cocktail shaker) and shake until all ingredients are blended to a lively orange colour.
2. Add ice cubes to the bottom of your glass and pour drink.
3. Garnish with a fresh pineapple slice.
Make these your go-to summer drinks to keep you refreshed and full of fire for summer 2021.