We've managed to narrow down our favourite whiskies this year, and it's not been easy. At VIP Bottles we had some close contenders for our top 10 whisky list. Our top 10 whiskies are a collection of whiskies that would be perfect for your at home bar, as a whisky gift for Christmas or as a decorative piece of liquor art in your spirits cabinet. 
This 12 year old single malt will be sure to tantalise your taste buds and leave you wanting another glass. It is of course best served over ice, giving the whisky a crisp and delicate taste. This Balvenie 12-Year-Old is rich, complex and represents the excellence of The Balvenie distillery.
Tasting notes:
Nose: Fruity hints with a top layer of honey and vanilla
Taste: Smooth flavours with a hint of cinnamon spice and a layer of sherry
Finish: Long and warm finish
We can't talk about this whisky without first mentioning its exquisite packaging. It's packaging upgrade is marked by the 21 years this whisky has been infusing- this whisky has been made with brilliance in mind, and it's certainly not been made in a rush, bringing out the flavours in this gin. A sweet intense flavour that is rich and creamy, Glenfiddich 21 Year Old Single Malt is a classic Glenfiddich whisky blend.
Tasting notes:
Nose: Intense hints of vanilla, figs, toffee and oak
Taste: Soft initially and then a peppery oak, lime, ginger and spice mix
Finish: Long finish warm and spicy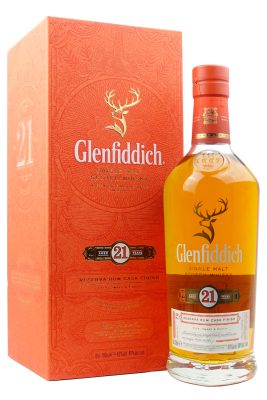 This unique whisky is coupled with intensified notes of caramel and vanilla. This whisky is triple distilled and charred twice for a distinctive flavour and smooth rich taste. This whisky will take you on an exploration of the Jameson whisky history. 
Tasting notes:
Nose: Barrel aromas amongst cereal and barley
Taste: Soft and smooth with a subtle spice and backed with a fruity profile
Finish: Smooth
This single malt scotch whisky with a taste of the sweet toast of American oak. Aged at 12 years, this whisky is finished in American Oak casks from Kentucky. Rich, fresh and sweet, the Balvenie American Oak is a whisky ideal for those with a sweet tooth.
Tasting notes:
Nose: Malty aromas with hints of fudge, vanilla and cinnamon
Taste: Strong notes of orange peel, vanilla, toffee and butterscotch
Finish: A long slow and sweet finish
A classic sweet bourbon, this whisky is built for the masses. With notes of honey and a creamy butterscotch taste, Wild Turkey Whisky Bourbon is made for those who have a love of sweet beverages. This whisky is better over ice, Wild Turkey Honey bottle is a great addition to any whisky gift or bourbon range.
Tasting notes:
Nose: A potent nose combining honey, lemon and butterscotch
Taste: Strong notes of more butterscotch and honey with a rich mouthfeel
Finish: Long and sweet with a lingering honey note
This triple distilled Irish whisky is made from fine grains and aged for a minimum of four years, bringing you the whisky we know today as Jameson original. This Jameson whisky is a perfect blend of nuts, spices and vanilla with smooth hints of sweet sherry, making this whisky a delectable and exceptionally smooth drink that tastes transformational over ice, making the perfect whisky gift for anyone in your life.
Tasting notes:
Nose: Mellow with wood and sherry undertones
Taste: Smooth and sweet with woody and nutty notes
Finish: Extremely smooth
A beautifully distilled single Scottish malt whisky, matured in the most exquisite American bourbon and Spanish sherry oak casks for 12 years. With notes of fresh pear, oak lingers and subtle spice, this whisky brings a  velvety smooth finish in your glass. This prestigious whisky bottle from Glenfiddich is one to indulge your senses and is among some of the smoothest whiskeys on the market. With over 125 years of whisky craftsmanship, Glenfiddich has designed this signature taste from barley to bring this heartwarming spirit.
Tasting notes:
Nose: Fresh, with a hint of pear
Taste: initially fruity notes developing into butterscotch, cream and subtle oak flavours
Finish: Long, smooth and mellow.
On the more premium end of the whisky spectrum is this Suntory whisky blend from a 17 year aged whisky. Aged in rare Japanese Mizunara oak barrels, this whisky contains hints of caramel and butter for a smooth and rich taste. This luxurious whisky is a true orchestra of flavour and depth. Truly unique, the Hibiki 17-Year-Old Whisky unashamedly stands out from the rest, hence the hefty price tag. This would make the perfect whisky gift for your loved ones, your dad, your boyfriend or your grandad this Christmas, and we can assure you it will be their most prized possession in their spirits cabinet. 
Tasting notes:
Nose: Very complexed nose with hints of citrus, cocoa, apricots, wax and wood.
Taste: Sweet toffee flavour with hints of raisins and cherries
Finish: Sweet and long-lasting citrus flavour
This rich and smooth whisky will make the perfect addition to anyone's whisky gift collection. With notes of smoked caramel and cinnamon, this whisky is sure to make a lasting impression on its sophisticated drinkers. This whisky was produced and designed by the famous rapper 'Drake', giving this whisky a celebrity status. 
Tasting notes:
Nose: Scents of brown sugar, popcorn and caramelised cherries
Taste: Strong flavours of cinnamon, green apple and waves of caramel
Finish: Smooth with sweet cinnamon notes
This premium whisky contains notes of pineapple, peach and candied orange, all combined in this award-winning Japanese 12-year-old whisky. This is sure to make the perfect whisky inspired gift for any whisky lover in your life.
Tasting notes:
Nose: Maple syrup, white grapes with a soft and spicy twist
Taste: Sweet orange and cinnamon notes after an initial lead of subtle caramel
Finish: Sweet and long finish with hints of pineapple